About Us
Foursquare Builders is a Texas-based construction company with over four decades of experience.
Our reputation for luxury home construction, project management, and residential additions has made us the choice of Austin's finest architects.
From the initial planning stages to turning over the keys, we provide a standard of construction excellence and budget precision that is rarely experienced in the industry. We foster a collaborative environment where builder, project owner, and architect work together from beginning to project completion.
Management Team
Affiliations
Foursquare Builders is a proud member of the following organizations:
Awards & Recognition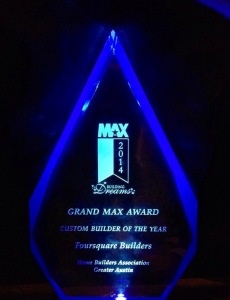 FOURSQUARE BUILDERS IS PROUD OF BEING SELECTED CUSTOM BUILDER OF THE YEAR, BY THE HOME BUILDERS ASSOCIATION OF GREATER AUSTIN.
"Receiving this award validates our strong commitment to the Home Builders Association of Great Austin. Through our partnerships with outstanding trades, suppliers, and vendors, we ensure that we provide our clients with superior service and craftsmanship. This award also acknowledges the hard work, excellent processes, and quality of the people that work here at Foursquare Builders."
– Wes Wigginton
2019 Best of Houzz

Design

2017 Best of Houzz

Design

2016 Best of Houzz

Design

2016 Best of Houzz

Service

2015 Best of Houzz

Design

2014 Best of Houzz

Service
2014 Builder of the Year

State of Texas

2014 Custom Builder of the Year

Austin, Texas

2013 Custom Builder of the Year

Austin, Texas

2011 Builder of the Year

State of Texas

2011 Best Architectural Design

State of Texas

2011 Best Custom Home

State of Texas
2011 Builder of the Year

Austin Texas

2011 Best Design Custom Home

Austin Texas

2011 Best Affordable Green Home

Austin Texas

2011 Best One-of-a-kind Home

Austin Texas

2011 Best Kitchen

Austin Texas

2010 Best Green Home

Austin Texas
2010 Best Custom Home Design

Austin Texas

2010 Construction Manager of the Year

Austin Texas

2010 Best Website for a Custom Builder

Austin Texas

2009 Best Design Custom Home

Austin Texas
Architects & Designers
Foursquare Builders is proud to have worked with:
Foursquare is also proud to recommend additional architects in the Austin area: